Without further ado, here are a few cookware essentials currently on my wish list – please leave a comment and review if you already own or have tried any of the products listed!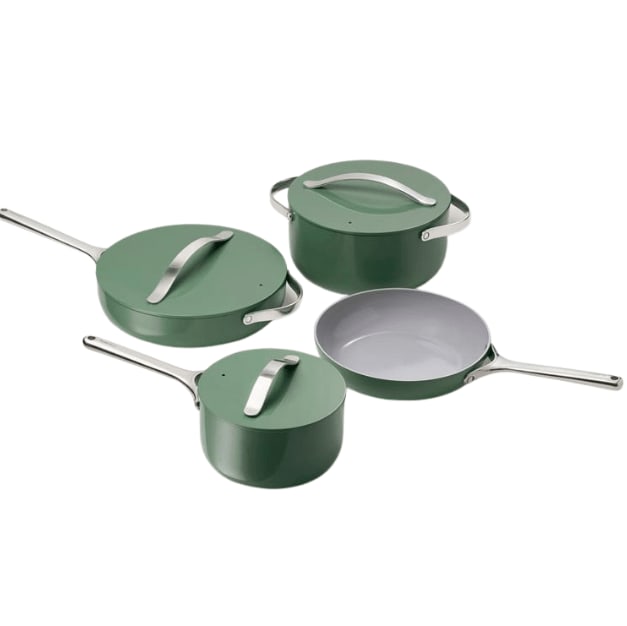 This cookware essential set from Caraway Home is designed to be as functional as it is sexy! Its ceramic non-stick coating is mineral based and free from harmful chemicals and toxic materials often found in most other non-stick cookware. It's also eco-friendly and produces 60% less carbon dioxide in production compared to traditional non-stick coatings. Since moving into our new house, I purged the old cookware I had that I got back in college and have been on the hunt for a new set…might have to pull the trigger on this one. Let me know if you have it and what you think!
These mixing bowls are a favorite of mine! I actually just got them for Christmas after one of my old bowls got a crack. The quality of these is phenomenal, I've already used them quite a few times and love how they look on my counter when I'm cooking/baking. They transition super easy to serve dishes in, definitely pretty enough for the table. I also really like how they come with lids, super convenient!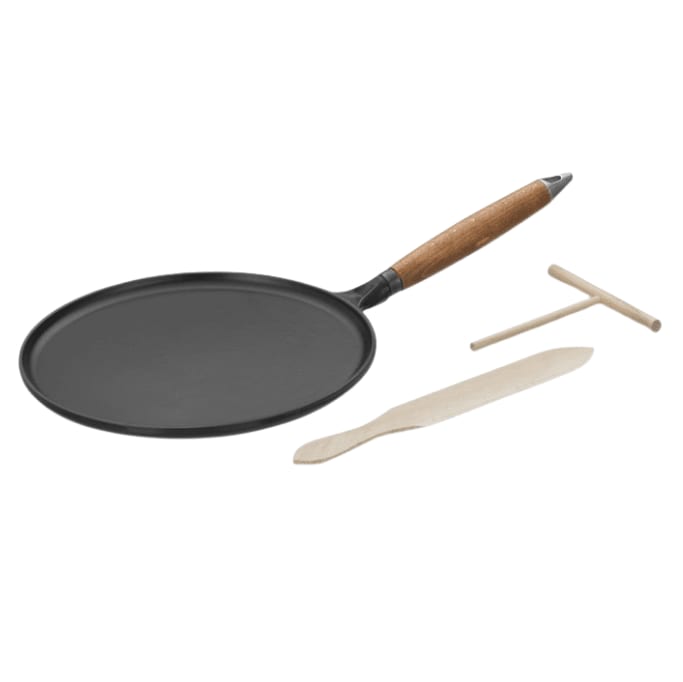 I mentioned on Instagram the other day how I want to make crepes more of a regular occurrence in our home. They are so simple to make and so fun to have a big spread of fruit and toppings. We've been using our cast iron pan for them and it gets the job done but is so heavy and gets so hot on the handles. For crepes, having the right cookware makes a huge difference. I love how this pan has a wooden handle that, first of all, is pretty, and second and probably most importantly – stays cool so you can easily lift and allow your crepe batter to spread around the pan.
(Let me paint a picture of my current situation…pour batter, rush to get oven mitts on as quickly as possible to hurry and pick up my cast iron, and twirl the batter with both hands on the pan because it's heavy).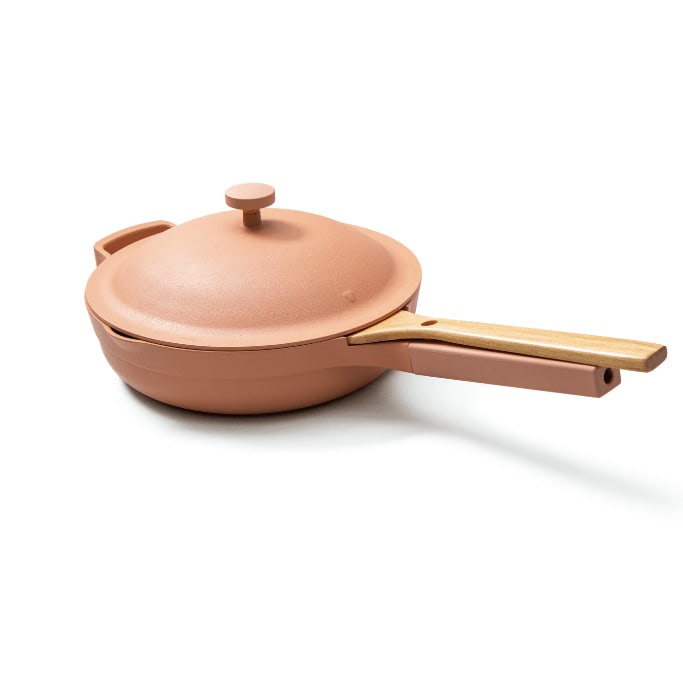 If you're on social media, like at all, you've probably seen or heard about this pan. Advertised as the only pan you need with a beautiful design, it's got me on the hook. Comes in six different colors and has nine different functions: fry pan, sauté pan, steamer, skillet, saucier, saucepan, non-stick pan, spatula, and spoon rest. I can't decide if I want this piece of cookware in the color spice (pictured) or sage.
Great Jones: Holy Sheet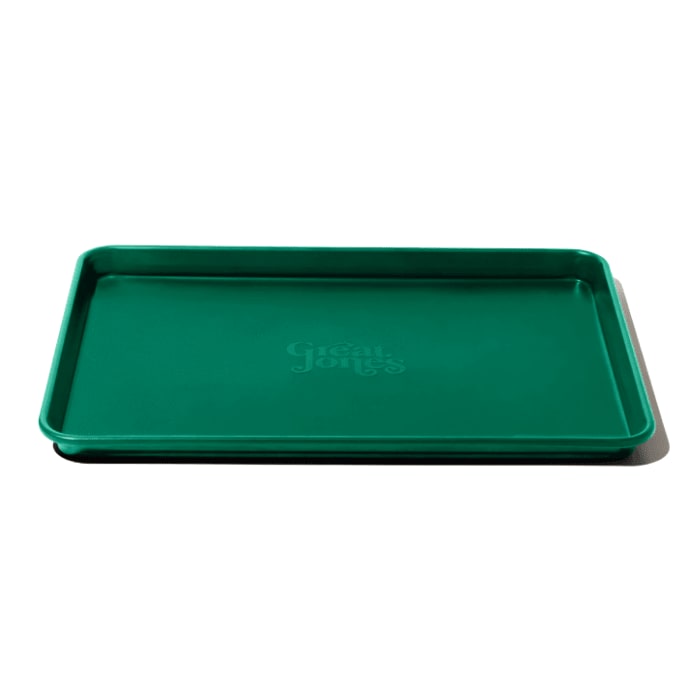 I'm in dire need of some new baking sheets and after a good bit of research has settled on this sheet pan by Great Jones. What's so cool about Holy Sheet is that it's made in the U.S. of aluminized steel and reinforced with steel rods which ensures it can withstand extreme temperatures (anyone else experience their cookie sheet warp in the oven?). It also is covered in a custom nonstick ceramic coating — crafted in Switzerland — which means you don't have to worry about bad chemicals or a tough cleanup.
Salt & Pepper Bottle Grinders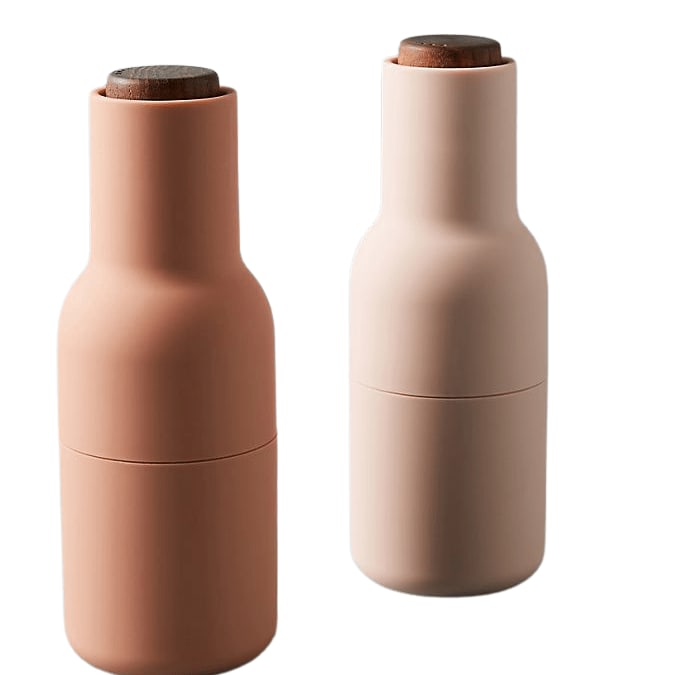 So I'm actually waiting for this to ship and cannot wait. These grinders by Norm Architects here aren't cookware essentials per se, but I couldn't resist adding them to my list. These are the perfect example of why I started this blog series. You take an object that isn't expected to be anything more than its function (i.e. regular salt and pepper shakers) and replace it with a piece of art that lives in your kitchen!
P.S. Check out my
pretty broom post
for another everyday object you didn't think about beautifying!